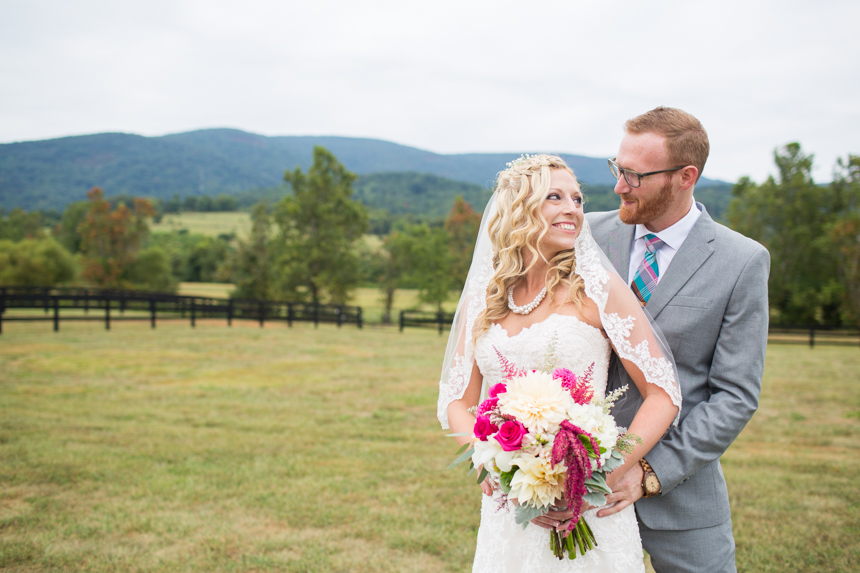 Tara and Craig … The day of their wedding was overcast. There was a slight breeze when I pulled up to King Family Vineyards. The mountains were bright blue in the distance. The sun was poking through the clouds ever so slightly. It was perfect! Every little detail was incredible.
There isn't much I can say about Tara and Craig that their family and friends don't already know. They are kind. They are generous. They are selfless. They have two of the biggest hearts. They are masters at spreading love and joy. They were truly made for each other, and being a part of their wedding day was amazing!
JOY. It's a small but powerful word. And when I think of Tara and Craig's wedding day, it's the first word that comes to mind. The light on Tara's face when she was finally in her dress – JOY. The excitement felt as I positioned Tara and Craig for their First Look – JOY. When Craig couldn't stop talking about how beautiful Tara looked and how lucky he was – JOY. When people gathered and listened to them read their incredibly thoughtful and loving vows to one another – JOY. When they laughed and smiled and danced their hearts out all night in celebration – JOY!
The reason that word is so important to me in this post is because for the first time, I really understood what it means to capture the spirit of the day. Sadly, not long after their wedding day, Tara lost her father. I know this has been a devastating time for her and her family. I can only hope that these images captured the JOY of the day and can serve as a reminder of the happiness he felt before he died. And with her permission, I'm sharing these images with love and excitement… and JOY.
One of my absolute favorite parts of the day was the intimate time Tara and Craig shared with each other before their first look. They exchanged cards and gift. They ended up giving each other the same card! 
More bride a groom portraits! Isn't this vintage couch amazing?
Congratulations Tara and Craig! Thank you to Sarah Goodwin for being my second shooter!
Vendors: 
Venue: King Family Vineyards
Flowers: Honey Bee's Florist
Bride's Dress: David Tutera from White Swan
Groom's Attire: Perry Ellis
Hair and Makeup: Amber Lowe
DJ: Greg Tutwiler
Videographer: Hoopla Media
Cake: The Cupcake Company
Invitation: Smart Press – designed by bride's sister!
Favors: Brother's Craft Brewing Beer
Vintage Couch Rental: Valley Heirlooms